Lone Ranger Multiverse

LRGH
Primary Universe:
Hornet-Ranger Universe
First Appearance:
The Lone Ranger (radio)

The Lone Ranger Multiverse is a multiverse that holds several universes that are most notable for the adventures of The Lone Ranger and The Green Hornet. This multiverse collided along the sixth dimension with the DC Multiverse, resulting in the Batman 66 Universe.
Universes and Works
Edit
Hornet-Ranger Universe (LRGH-00)

The Lone Ranger (radio)
The Green Hornet (radio)
19 The Lone Ranger novels
Various comic strips and comic books

Lone Ranger Serial Universe (LRGH-RS)

The Lone Ranger (serial)
The Lone Ranger Rides Again

Green Hornet Serial Universe (LRGH-HS)

The Green Hornet
The Green Hornet Strikes Again!

The Lone Ranger Television Universe (LRGH-RT)

The Lone Ranger (television)
The Lone Ranger (film)
The Lone Ranger and the Lost City of Gold

Return of the Lone Ranger Universe (LRGH-RLR)
Legend of the Lone Ranger Universe (LRGH-LLR)
The Lone Ranger Video Game Universe (LRGH-V)
The Lone Ranger 2003 Universe (LRGH-R2003)
The Lone Ranger Vendetta Universe (LRGH-VEN)
The Green Hornet 2011 Universe (LRGH-H2011)
The Lone Ranger 2013 Universe (LRGH-R2013)
Coexistence with DC Multiverse (DC)
Edit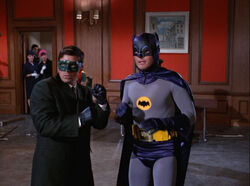 The Lone Ranger, John Reid, is the great-uncle of The Green Hornet, Britt Reid.
Ad blocker interference detected!
Wikia is a free-to-use site that makes money from advertising. We have a modified experience for viewers using ad blockers

Wikia is not accessible if you've made further modifications. Remove the custom ad blocker rule(s) and the page will load as expected.